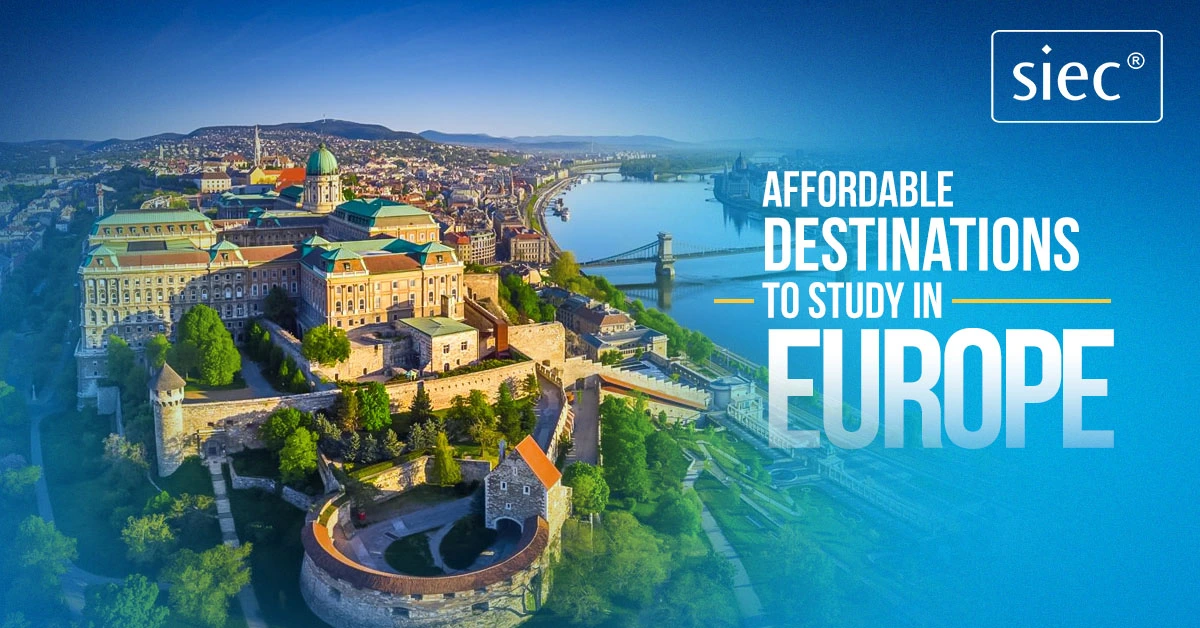 Affordable Destinations to Study in Europe
Are you someone who is planning to study abroad but is looking for budget-friendly options? Then, this blog is specially crafted for you. It provides you with details and descriptions of many places in Europe to make it easier for you. It also gives a cost breakdown for studying in Europe. Scroll on to know more.
Estonia
A beautiful study destination with college fees ranging from $1250-$3500
During the term, you can work up to 15hrs/week and up to 40hrs/week (full time) during the holidays.
You can stay in Estonia for an additional nine months after graduation.
You can apply for a temporary residence permit once you find a job.
Finland
For international students, tuition fees range from 3,000 to 12,000 EUR per year; Attractive scholarships are available.
Many universities do not require an application fee.
Artificial Intelligence (AI) is one of the most opted programmes in Finland.
IELTS is not necessary.
France
Tuition fees range from 2,900 to 3,900 EUR per year.
The typical tuition rate for Bachelor's programmes is roughly 200 EUR per year. However, Engineering degrees have higher tuition fees of around 630 EUR per year.
Without IELTS and with a 2-year stay-back option, you can study Big Data, Digital Marketing, Digital Business Analytics, and Corporate Finance in Paris.
Germany
You can study there for free in Public Universities in Germany.
Private universities' annual tuition fees are estimated to be around 12000 EUR.
Many colleges do not require IELTS, GRE, or GMAT.
PSW of 18 months is allowed after finishing your studies.
Poland
Many English-taught programmes are available, with tuition fees ranging from €2,000 to €3,000 per year.
20hrs work permitted during studies & three months of full-time work during the vacations.
A work permit is not required if you have completed a full-time programme at a Polish higher education institution. However, you need to have valid stay permission. You can stay for another 2-3 years if you can submit financial proofs without relying on government assistance. A Work Permit can be obtained by students who find work or accept work.
Austria
The annual tuition charge is roughly 1,400 Euros, surprising given Austria's expensive tourist destination.
If you only speak English, don't expect to find part-time work quickly.
After completing their studies, overseas students in Austria can start working or engage themselves in a business. Students can renew their residence permit for a maximum of 12 months to find work. This is applicable for Bachelor's, Master's, and Doctoral programmes.
International students in Austria are permitted to work part-time for a maximum of 20 hours per week. Furthermore, as long as the student is engaged in an Austrian study programme, they can work and earn money without requiring a work permit.
Sweden
Compared to other European places, it is a little pricy, but the academic atmosphere is unrivalled.
Tuition fees range from 80K to 200,000 SEK each year.
Also, while part-time work is permitted in Sweden, it is limited because most positions require a working knowledge of Swedish.
There are no restrictions on how many hours you can work in Sweden. A student may also work full-time throughout the day. The only requirement is that they should devote at least 40 hours a week to their study.
You can stay in Sweden for six months after finishing your education to search for work. You will need to apply for a Residence Permit to stay for those six months. Once you've found work, you'll need to apply for a Work Permit.
Italy
A Bachelor's degree here would cost around 1,000 EUR/year; both cheap & costly programs are available.
International (non-EU/EEA) students studying or desiring to study in Italy have the option of staying for up to 12 months after finishing their education.
The Student must not work more than 1,040 hours per year as required by law. They can work part-time 20 hours/week for a year.
Eager to know more about Studying in Europe? Register now for Europe Admissions Day and get to learn more about the same.