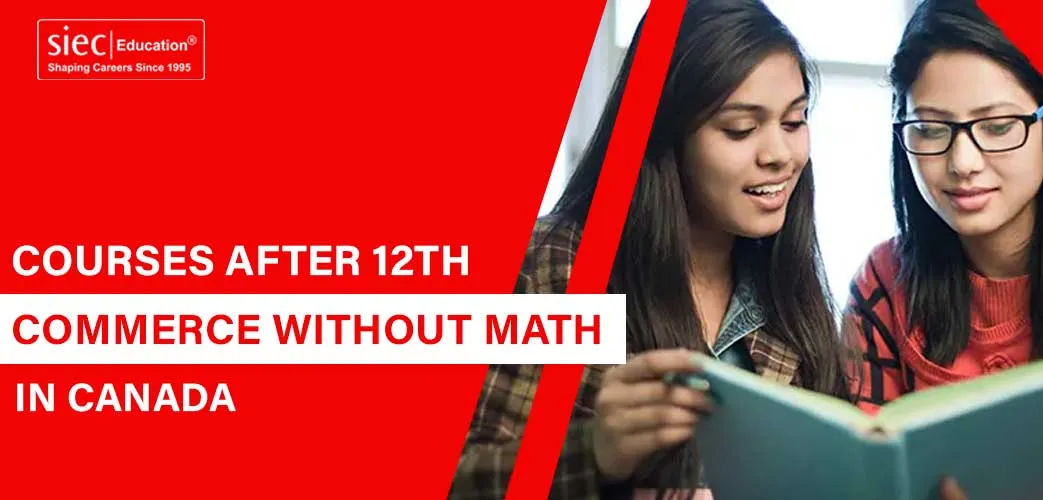 Courses after 12th Commerce without Math in Canada
Going for a Bachelor's Degree without math is definitely possible in Canada. Options are available after passing 12th Commerce without math.
How to do it?
Take foundation math subjects in 1st year & go for-
Pathway Institutions– e.g. study 1st year at Fraser international college leading to Simon Fraser University and similar institutions WITHOUT increasing duration or cost and finish bachelors with one of the top-ranked universities.
BA with different specializations like (Economics); and later on move to Bachelors of Business in 2nd year
Conditional Admissions
For e.g.- Math is required for pursuing Nursing in Canada but few Colleges/Universities give you admission in pathway programs if you didn't have math in 12th.
Alternatively, all you need to do is- pass a Math test, which checks your conceptual knowledge of class 10th Mathematics.
And then start your academic studies.
More Opportunities in Canada After 12th Commerce without Math Canadian universities & colleges offer many job-oriented courses as well to Indian students who have finished 12th Commerce without Math.
The basic requirement to apply to these courses is that the student should be 10 + 2 passed.
There would be English test score requirement as well.
These are few job-oriented courses in Canada after 12th-
UG courses in Accounting & Finance, Economics- Microeconomics & Macroeconomics- Costing, HRM, and Marketing & Business Administration.
These courses can be pursued after 12th commerce without Math.
You may go for Bachelor's degree as well as Diploma in these specializations.
These courses can be pursued without any prior expertise in Mathematics and admissions to these courses do not require Math.
The Management courses, furthermore, are considered to be the best for Commerce students.
Why Study in Canada
The colleges and universities in Canada are popular for their unique UG and PG courses.
Case-study based curriculum, classrooms with cool facilities, individualized teaching method, reputed faculty and pulsating student life- these are some of the reasons why Indian students choose to study in Canada.
Canada is pure multicultural.
Almost all of the world's ethnic groups can be found here.
And it is needless to say that Indian students enjoy the authentic Indian food, Indian culture & also Bollywood nights while staying at over 7000 miles away from home.
Study in Canada for-
World-Class Institutions: Reputed universities & colleges having a good record in 'Graduate Employability.'
Reasonable Tuition Fee: Canadian colleges' tuition fee and living expenses are quite reasonable.
Employment Opportunities: International students may work part-time during studies, both on and off-campus. They can also work full-time, up to 30 hours a week, during vacations.
Post-Study Work Permit: Up to three-year post-study work permit.
Convenience for Family: International students in Canada are eligible to bring their family with them during the study period.
Benefits for Family Members: Spouse may seek employment anywhere in Canada during the study period of a student. Children can continue studies without the need of a study permit.
Permanent Residency: Studying in Canada opens doors for the students to acquire Canadian PR.
Universities in Canada
Canada is home to many reputed universities which provide a healthy educational atmosphere to the students.
The institutions here let the students indulge in all sort of activities which refine a student life.
Reputed Universities & Institutions in Canada
University of Alberta, University of Calgary, Fanshawe College, Concordia University of Edmonton, Cambrian College, Fairleigh Dickinson University, Manitoba Institute of Trades and Technology, Capilano University, Evergreen College, Algonquin College, La Salle, Northern Lights College, University Of Canada West, Montreal, Georgian College, Niagara College & more.
Canada College Intakes
There are 3 semesters or terms in an academic year in Canada. In these 3 terms the Canadian universities take admissions.
Fall semester (Sept to December)
Mostly new students join the Canadian universities in this semester. International students can take admissions in any course in this semester.
Winter semester (Jan to April)
Students who have missed fall semester can utilize this term. Check the programs offered during the semester before seeking admission.
Summer semester (May to Aug)
In some Canadian universities, few courses are taught in this semester also.
Jobs Popular Among Indian Immigrants in Canada
For a skillful person, there is no dearth of work opportunities in Canada.
There's always a demand for professionals with training in English language, IT, healthcare Industry and engineering.
A little homework & hard-work, of course, will be needed for getting a job.
There are NO SHORTCUTS. Period.
Some jobs which are popular among the skilled/semi-skilled immigrants are-
Health Care Professionals/Nursing Assistant

Sales/Retail Professionals

Financial Product Supervisors

Call Center Agents/Customer Service

Office Clerk/Personal Secretary

School Teachers

Administrative Aide/Office Support

Retail Sales Manager/Fast Food Supervisor

Grocery Managers & more.