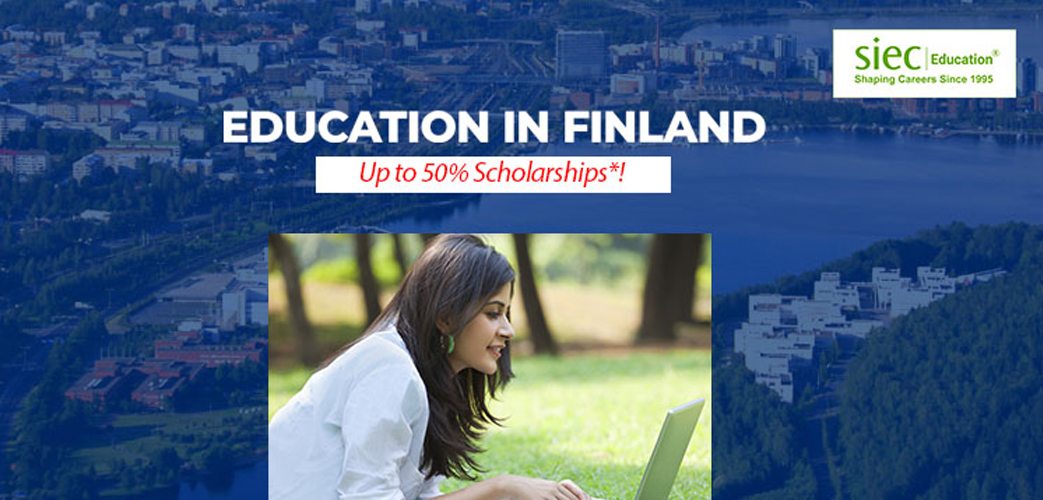 Education in Finland, Up to 50% Scholarships
Finland is emerging as a popular study abroad destination for international students. According to student satisfaction surveys Finland continues to be in the top of European destinations for international students. But what is so different with Finland and Finnish Universities?
International students in Finland are quite positive about the academic standards at their Finnish universities, they are completely satisfied with the social life surrounding the studies, and admire Finland for the extremely good university services along with quality of education and quality of life.
Finland is also a popular destination due to the high-level of English, safety and post study work options. Moreover, there is easy
Eligibility Criteria and Entry Requirements

Application Process

Visa Process and Documentation

Visa Success Rate,
This makes Finland to be the choice of international students as their Study Abroad Destination. Also there is affordable education and
WHY FINLAND?
Affordable Education and Living

Leader in STEM Fields

Part-time Jobs

25 hours/week

Full Time during Semester Breaks

Part-time Income (Average)- Euros 1000/ Month

English Taught Programmers

Post Study Work Options

1 year stay back

Internationally Recognized Degrees
POPULAR UNIVERSITIES
1. Arcada University of Applied Sciences
2. Helsinki School of Business
3. Hӓme University of Applied Sciences
4. Kajaani University of Applied Sciences
5. Lappeenranta University of Technology
6. Satakunta University of Applied Sciences
POPULAR FIELDS OF EDUCATION
There is a variety of courses offered by universities for their applicants. The options range from Business Studies to Marine Technology that allows the students to choose the course of their choice and interest.
HURRY UP GUYS!!
APPLY NOW! We have SPRING SCHOLARSHIPS for you in FINLAND