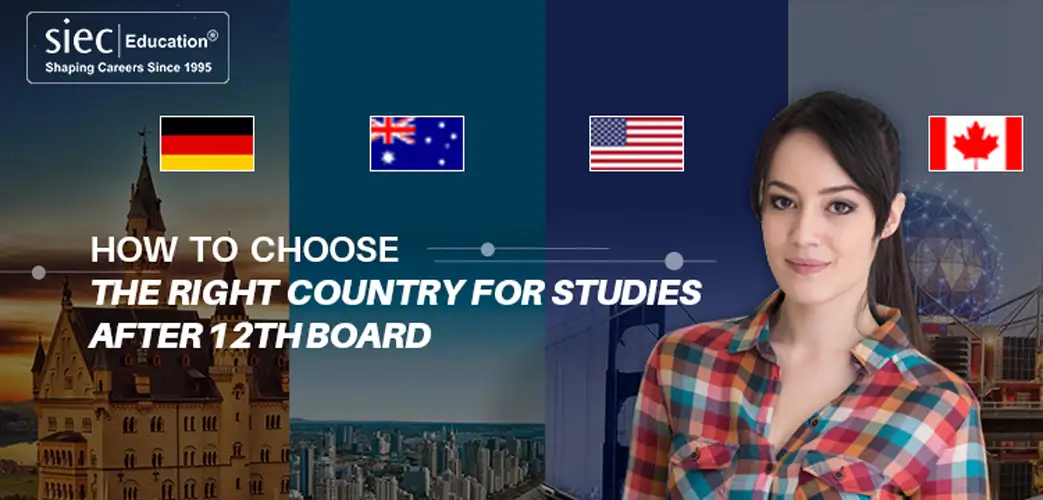 How to choose the right country for studies after 12th board
Writing your 12th board exam? Best of luck for a good score first of all! And if you've planned to study abroad after 12th many options are there. You can pick USA, Canada, Australia, Singapore, New Zealand, Germany, UK, Ireland, Malaysia etc. But how to choose the right country for studying abroad! Take these 7 steps & pick the best country for studying.
1. Have a long-term vision based on your favorite subject
Keep in mind your best-loved subject & visualize what you'll do further. Check out the facilities in various countries- project avenues, internship chances, Post-Study Work Rights etc- and compare.
For e.g. Computer Engineering & IT students select USA; New Zealand is the top choice for Structural Engineering & Hospitality; Singapore & Canada are picked for Business courses. Also, in some countries (NZ, Australia etc) you can work for up to 4 years after studies.
2. Budgeting
Have a clear picture of your budget. Choose a country that you can afford easily and which allows you to work part-time. In Singapore, you may work for 16 hours/week, NZ & Australia allow you to work for 20 Hours/week.
You can study WITHOUT paying any Tuition Fee in Germany. Almost FREE!
USA, however, is a bit expensive but students pick it for internships & high rewarding jobs.
3. Explore Scholarships
Research well, talk to the advisors, attend Education Fairs and know about scholarships in various countries. Few US institutions offer scholarships up to $25,000/annum and you may get 100% scholarships in Australian colleges.
Singapore also offers scholarships up to S$ 10000 (INR 5 Lakh approx.).
4. Check Out University Ranking & Reputation
A very important factor if you are looking for quality education. Australia is popular since 7 out of the top 100 Universities in the World are Australian and all NZ universities are ranked amongst the World's best.
No need to say that the USA & UK are home to many renowned institutions.
5. Get Familiar with Entry Requirements
Looking for a diploma program or a degree? Different entry requirements would be there in different countries. Check for test score requirement (IELTS, TOEFL, GRE, GMAT, SAT etc) as well & get prepared.
6. Know the Deadlines
Right now Canada institutions are inviting applications for Sep'19 intake whereas you can apply for April/May/June intakes in New Zealand & Singapore; US Universities have two intakes, Fall (Sep, Oct) and Spring (March, April). Intakes in each country have certain deadlines which would also depend on courses and institutions. Know about them & be prepared with documents.
7. Apply
Now shortlist universities, shoot applications & wait for the offer letter.
Meanwhile, start taking Visa Counselling for the country of your choice.
Also, it is always advised to choose a politically-stable country having a multicultural environment.