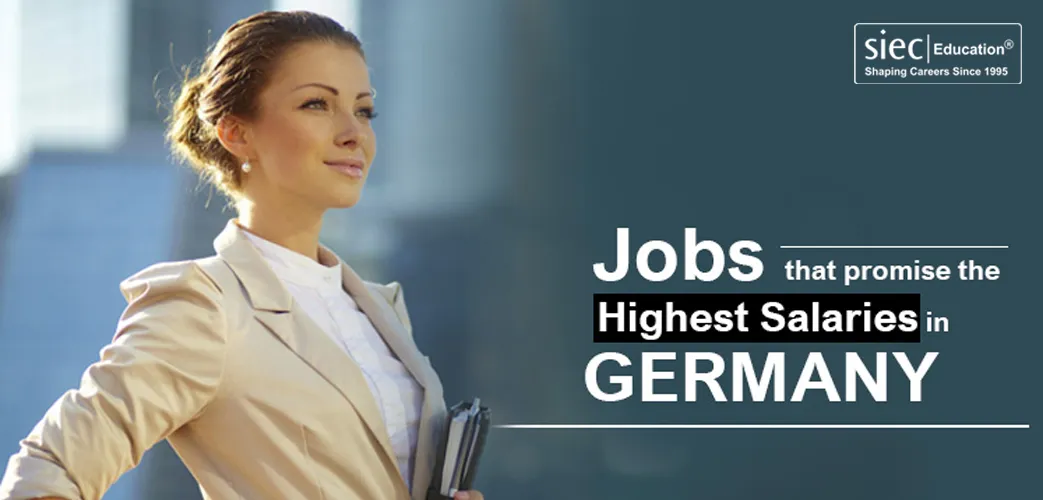 Jobs that promise the Highest Salaries in Germany
Germany is a global hub for International Students with a commendable history in its Education and Research sector. Hence, they value skills and knowledge the most and also welcome everyone who could be a good Human Resource.
It is one of the booming Study Abroad destinations especially amongst the Indian students. This is because of the fact that German Higher Education Institutions (HEIs) offer FREE* Education to both Natives and International Students. So, for everyone who wish to learn and learn in a Quality EducationSystem that doesn't hurt their pocket, Germany for sure is the best option.
While planning your education you ought to think about the advantages you are going to get afterwards. Apart from the Experience and Knowledge you get there are various things which remain a big Question Mark. For Instance,"What would be the worth of your education?" is one of the most common questions after investing a good deal of Time and Money on Studying Overseas.
So, here we bring some quantitative and qualitative information that could help you in knowing how much you are likely to earn after you complete your education in Germany.
Doctors and Dentists in Germany could earn on an average €79538 (INR6065136) per annum.
Qualified Lawyers could earn on average €74013 (INR5643830) per annum.
Student enrolled in Philosophy & Humanities could earn on average €47022 (INR3585642) per annum.
Below are the common Job Fields with highest salaries and their Pay scale.
| Job Field | Income P.a. (In Euros) |
| --- | --- |
| Medicine & Dentistry | €79538 |
| Law | €74013 |
| Industrial Engineering | €70288 |
| Engineering | €69850 |
| Mathematics & Computer Science | €68241 |
| Natural Science | €66954 |
| Business Studies & Economics | €65404 |
| Architecture | €55822 |
| Psychology | €55204 |
| Earth Science | €53713 |
| Political & Social Sciences | €52974 |
| Teaching | €50000 |
| Philosophy & Humanities | €47022 |
| Historical & Cultural Sciences | €46836 |
| Design | €46075 |
| Education & Social Pedagogy | €45116 |
These are the pay scales for the common job fields in Germany but this could be your Salary only when you score pretty well in your Graduation.
Go Ahead, Build a Future which people dream of and turn your Dreams to Reality.
All the Best!!y expert for a one on one personal counselling session!