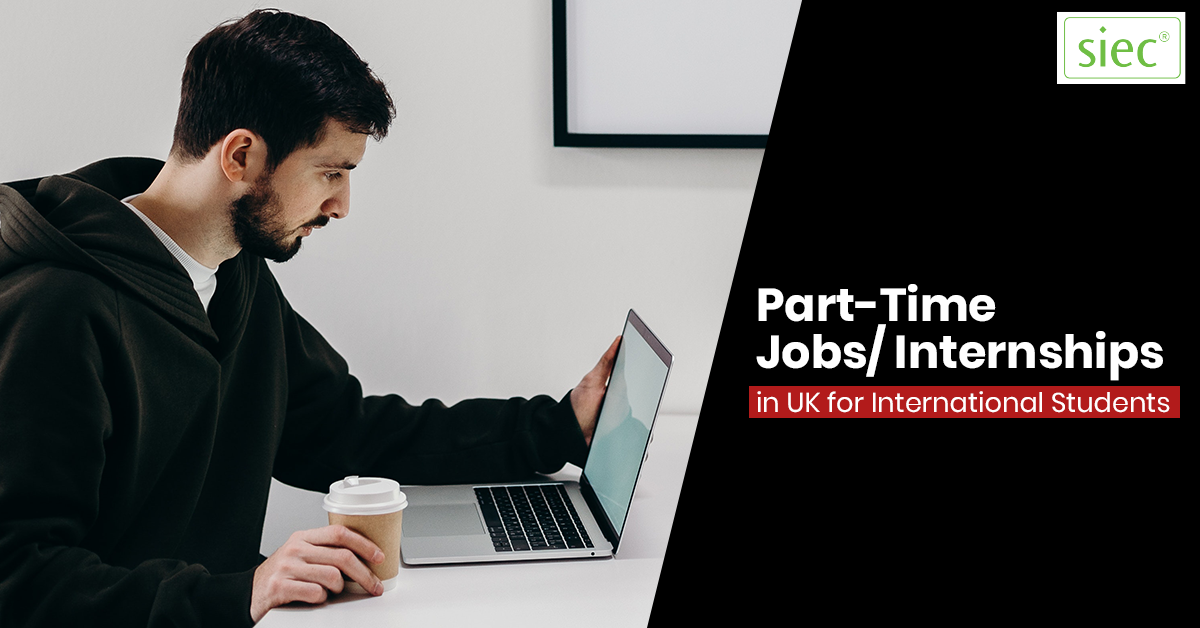 Part-Time Jobs/ Internships in UK for International Students
Part-time jobs are essential for supporting one's expenses in a foreign land. Some of them can be relevant to gain some work experience, while others might not be. If you are one of the clans looking to study abroad in a country like the UK, this blog is just for you. This write-up will guide you to everything related to part-time jobs in the UK for international students.
Rules for Part-Time Jobs in the UK
Each country has its set of rules for Part-timers. Below listed are the regulations for the UK.
20 hours a week for a Full-time Degree program which is 4 hours a day with weekends off.
Language Centre students can work a maximum of 10 hours a week during the course term.
You can work Full time only if you have a work permit (Tier 2).
Any type of self-employment like freelancing or consultancy work will not be entertained.
Type of Part-Time Jobs
On-Campus jobs are mostly available on Campus. They range from the library, computer labs, receptions, gyms and the cafeteria. Since more number of students apply for these roles so, the options are limited here.
The off-campus jobs, as the name suggests, is available out of the campus. It ranges from office boy, receptionist, waiter/ waitress, call centre maintenance, data entry, etc. The students might have to take permission from the universities to work off-campus.
Modes to search for part time
Local Newspapers
Online Portals
University's recruitment department
LinkedIn
Mutual Contacts
A Rough idea of the Pay scale.
| | |
| --- | --- |
| Job Roles | Salary (Per Hour) |
| Helper at Retailer Shop | 8 to 9 Pound |
| Cashier | 8 to 10 Pound |
| Delivery Boy | 4 to 6 Pound per delivery |
| Clerk | 12 to 14 Pound |
| Library Assistant | 10 to 12 Pound |
| Waiters/waitresses | 18 to 10 Pounds |
Below listed are the various part-time jobs roles for international students in the UK, along with their basic pay.
Note: Night shifts are paid higher than the day shifts. You can expect a 1.5 times higher payment than the Day shift salary.
Apart from part times as such, you could also opt for paid internships that can help you build your career profile.
Why opt for an international internship?
Personal and professional development skills.
Resumes with international experience stand apart in the crowd.
Helps you grow your network.
High chances of a permanent job or a PR in the country.
Learn about what it takes to be successful in working in another country.
You can always look for internships via your universities of even LinkedIn. LinkedIn is a wonderful way to get connected with professional people.
How to reach someone for employment/internship options via email or social media?
1) Introduce yourself with a short and crisp introduction.
2) Reference of contact can add extra points, so do not hesitate to add their name if you have one.
3) Purpose of email in 3-4 lines maximum.
4) Show your willingness to connect with them by asking the best time or date to contact them.
5) Attach your resume for a brief understanding of your profile.
So, this was a small summary of part-time jobs in the UK for international students. In case you're looking to study in the UK and are looking for good assistance, then SIEC always has its doors open for you. Reach out to us via our phone numbers or Social media accounts to help you achieve your dreams.