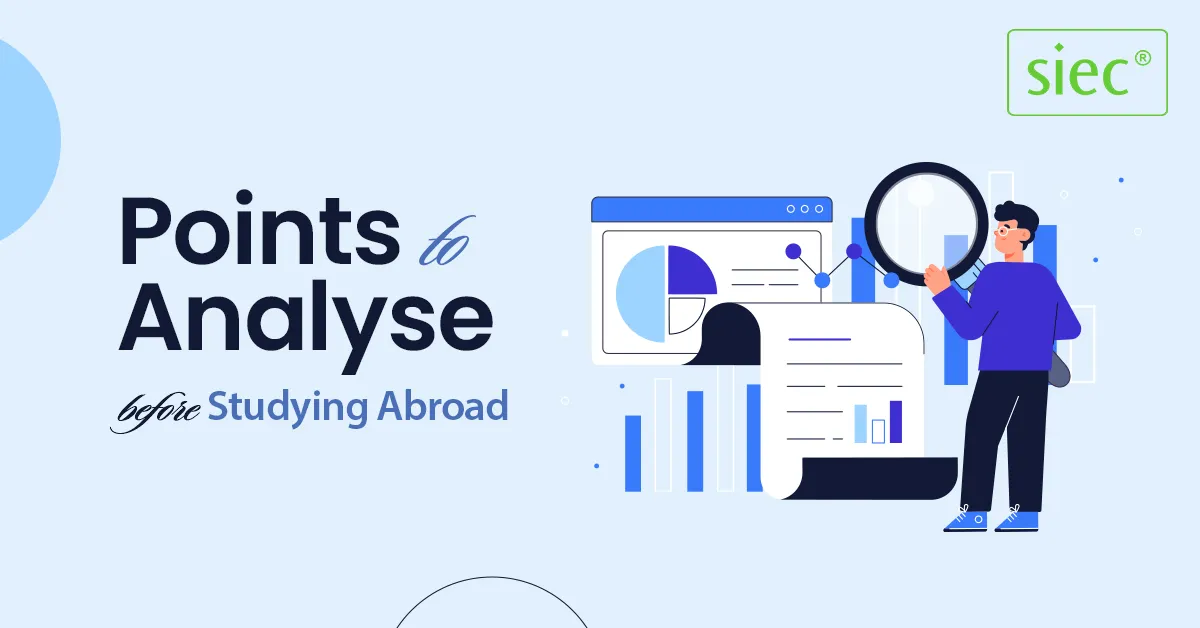 Points to Analyse Before Studying Abroad
Points to Analyse Before Studying Abroad
Are you someone who is looking to study abroad? Wondering where to start? No worries, this blog will help you with 9 basic points that you should be analysing before studying abroad. Scroll on to start with the first point.
Choose your country
The first step to this process is choosing the right country to study abroad. Ensure to research the place with key points like post-study work rights, no. of universities with good rankings, money exchange, language, culture, food, and other factors.
University Ranking
After choosing the country, make a list of universities that you plan to check out. Make sure to check the university rankings, as this will enhance your resume also. Below is the list of ranking portals that you can refer for your abroad admissions
Times Higher Education World University Rankings
QS World University Rankings
Academic Ranking of World Universities/ Shanghai Rankings
CWTS Leiden Ranking
The Webometrics Ranking
Course Availability
If you are spending a lifetime of savings, you have to ensure that you will have to pick a course you are interested in. Otherwise, you might regret your decision later. Hence, make a list of universities that provides your course and then start applying for the same.
Fee Structure
After course selection, an important factor is your fee structure. Ensure to check that which university on your list offers your course at the best rate. This will help save some dollars back in your pocket.
Graduate Employability
If you are wondering what graduate employability is, it refers to a person's ability to find and create jobs after school. Furthermore, employability implies that institutions and companies have supported student's knowledge, skills, qualities, reflective disposition, and identity, all of which are necessary for graduates to succeed in the workplace.
This differs from university to university. The higher the numbers, the better are the chances. Hence, make sure to check this point as well.
Scholarships
Many universities abroad offer numerous scholarships for international students at Bachelor's, Masters and PhD levels. Students can apply for University-specific scholarships, which are generally merit-based. Also, you can check out government-based scholarships depending on the country that you're applying for. The scholarships range from 10% to 100% based on student's academic performance.
Part-time work
Part-time is an essential factor while deciding on the country to study. Each country has its own rules, regulations and hours for part-time work.Below is a small list of the countries and the PT hours of the same.
Canada: 20 hours per week, 40 during break
USA: 20 hours per week, 40 during break
Australia: 40 hours per fortnight during the semester, full time during vacations
Singapore: 16 hours a week during term and full time during vacations
New Zealand: 20 hours a week, full time during breaks
Germany: 20 Hours a week
UK: 20 hours a week, full time during vacations
Ireland: 20hoursper week, 40 during break
Malaysia: 20 Hours a week
Weather
This should be the last option; however, if you are not used to cold places, then include this factor while searching for the right country.
So, this was a short brief of the factors to be considered for choosing the correct study abroad destination. Get in touch with SIEC Experts today for a detailed consultation.