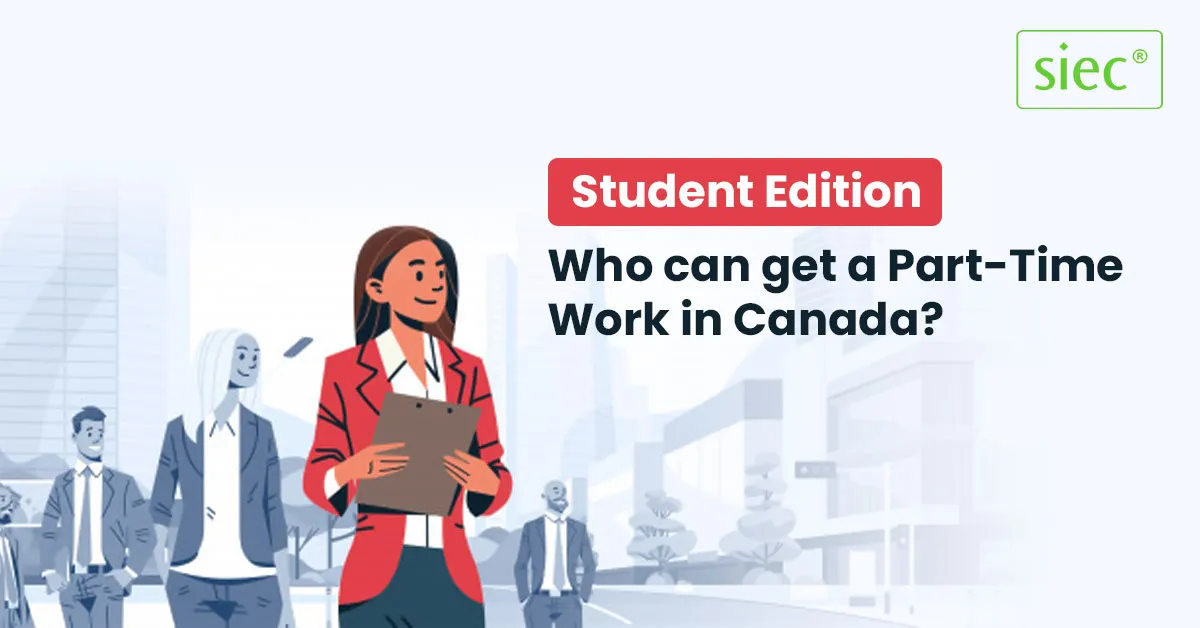 Student Edition - Who can get a Part-Time Work in Canada?
Canada, one of the most popular study abroad destinations, stands out in a crowd with top-ranked education systems globally, renowned faculty, and top-notch state-of-the-art infrastructure. Many international students opt to Study in Canada due to its easy PR options as well.
Part-time is an essential factor while deciding on the country to study. Like every other nation, Canada also has its set of rules and regulations when opting for part-time work. Scroll down to know who can get a job while studying in their land.
A student enrolled in a full-time course with a valid study permit.
A student enrolled in a full-time course with a valid study permit is eligible for PT jobs. Without a permit, you can opt for employment.
Must be registered in a valid course.
This is an important part. The student must be enrolled in an academic, vocational or professional training programme that finishes in a degree, a diploma or a certificate.
Social insurance number (SIN).
The Social Insurance Number (SIN) is a nine-digit number you'll need to work in Canada or use government programmes and services.
A SIN is granted to a single person and cannot be used by anybody else. It is your responsibility to keep your SIN safe. Keep documents regarding your Social Security number and personal information in a secure location.
On-Campus does not require SIN.
If you plan to work on-campus, you won't require a work permit or a social insurance number (SIN), and you can also exceed the 20 hours/week limit during semesters.
The student must be from a Designated Learning Institution
A designated learning institution, or DLI, is a school that the government has approved of a province or territory to accept overseas students.
So, whatever university you plan to study should be a DLI. You can find the list of designated learning institutions on the Government of Canada Website, where the universities will be segregated according to the provinces and regions.
Working hours at Canada
After you start your degree programme, you can work both on and off-campus. As an international student, you will be permitted to work under the following conditions:
Part-Time - 20 hours/week during semesters
Full-Time- 40 hours/week during holidays
The wage rate of some of the part-time jobs in Canada
As an international student, you can look at some of the professions available along with their wages below. There are chances that you won't be able to find work in your field, but you might find a position that pays well.
Teacher's Assistant (CAD 15.65/hour)
Server/Bartender (CAD 11.00/hour + tips)
Cab Driver (CAD 14.00– 25.58/hour)
Tutor (CAD 15.00–20.00/hour)
Freelancer (CAD 25.60/hour)
Bookkeeper: 25 CAD/hour
Educational writer: 13 CAD/hour
Cook: 13 CAD/hour
Human resources assistant: 13 CAD/hour
Lifeguard: 12 CAD/hour
Helpful tips for students who wish to work in Canada
Be very explicit about your experience, qualities, knowledge and skills in the job portals. It is also necessary to include references in your CV.
Choose your job very carefully as it may determine the position you will have next year. Try to find a job in your field of study if possible.
During your employment, pay attention, make a good impression, and express interest in a future collaboration with your employer if it's the case.
You can apply for a post-graduate work visa that allows you to work in Canada for up to three years after graduation. You must own a valid study permit while applying & ensure to apply within 90 days of receiving your final grades.
To know more about Canada, get in touch with SIEC Experts today. Call/Whatsapp us at 9779046382.