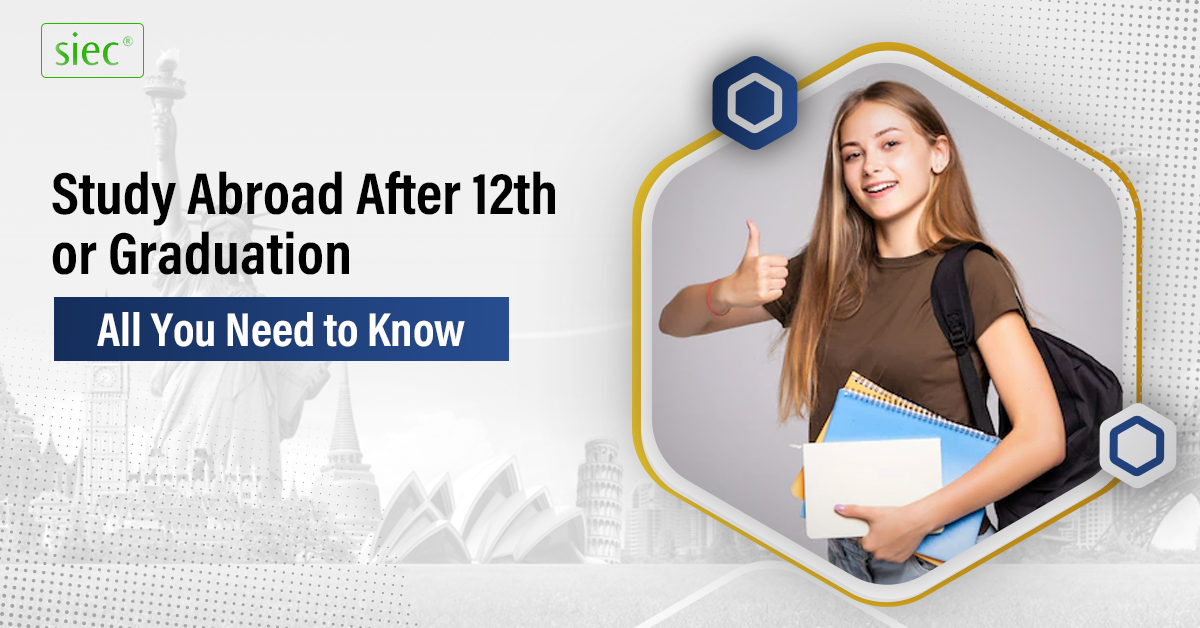 Study Abroad after 12th or Graduation | All You Need to Know
Studying abroad offers students a lifetime experience to cherish, according to the Business Standard India students travelling abroad for higher education will witness a rise to 1.8 billion by 2024. Studying abroad allows you to study at the top educational institutes while also developing a global perspective that will help you thrive in your career. Not only this, studying abroad will help you learn foreign languages and the required skills to grab job opportunities in the global market.
Studying abroad after Class 12 or graduation is becoming increasingly popular as foreign universities and colleges meet student demand by providing courses in all major academic subjects. As a result, many kids decide to study overseas after finishing their 12th grade or graduation.
Some students hope to pursue higher studies overseas after graduation. It not only develops their personality by giving them industry-specific information, but it also assists them in becoming self-sufficient. As a result, many students choose to study abroad in order to prosper. However, the study abroad procedure is highly demanding and involves a significant financial investment as well as documentation.
This is an in-depth study abroad guide that covers all elements of study abroad programmes and the motivations for studying abroad.
Guide to Study Abroad with 8 Easy Steps
Step 1: Planning
It is essential for the applicant to have a strong academic record throughout their high school years. Most institutions look at your achievements in the 9th, 10th, 11th, and 12th grades. Aside from that, involvement in extracurricular activities, contests, and volunteering is crucial since it adds value to your Cover letter. Hence, it is very important to plan your study abroad journey way in advance.
Step 2: Research
Students come across several challenges while deciding their future paths and outcomes. Whether it is Science, Arts, or Commerce, there are several options overseas for each if you conduct an extensive investigation. The following points should be considered as part of your research for studying abroad after 12th grade such as interest in the field, future aspects, employment possibilities and salary.
Step 3: Course Selection after 12th or Graduation
Any course you choose to pursue in the early years of your career is quite important. Because you will be investing the majority of your time and money on your first degree, you must make an informed decision. This degree will serve as the foundation for your future studies and employment options.
Step 4: University Selection
When it comes to choosing an institution to study abroad after 12th grade, don't settle for anything less than the finest. Research your selected university's location, hostel, scholarship and grants, fee, number of intakes, course availability, culture, campus placements, eligibility, and admission procedure thoroughly.
Step 5: Appear for exams
Most colleges abroad look at your ILETS, TOEFL, CPE or CAE results, as well as your SAT, GMAT, and other exam scores. The English language examinations are required for all students, whereas the SAT, GMAT, and other assessments depend on the course and university you choose to study at after high school.
Step6: Applications
Admission procedures differ depending on the nation and the university. Regardless, you have to go through it. Your first priority should be to convert and validate the appropriate papers and mark sheets, which you should maintain on hand. Obtain your recommendation letter and draught your Statement of Purpose.
Step 7: Study Visa Application
Post completion of the admission process students must walk towards visa application and lodgement. You must have a letter of acceptance or an offer letter from a recognised school or university in that nation in order to apply for a student visa.