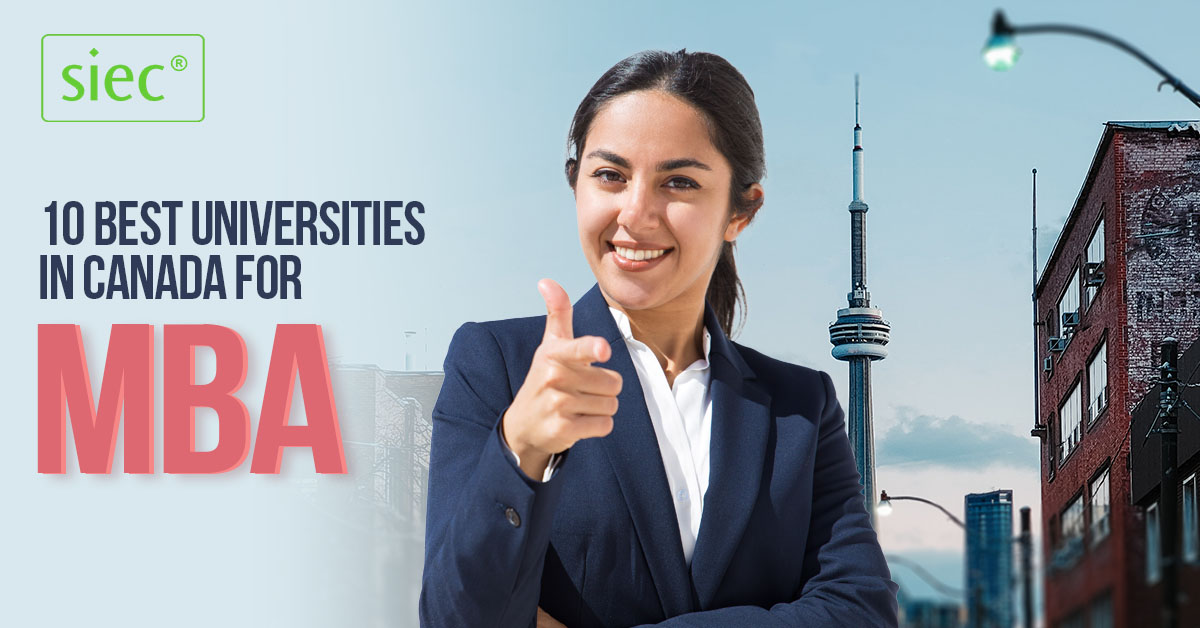 10 Best Universities in Canada for MBA
If you're looking to make your way in the business world, you may want to consider studying at one of the best MBA colleges in Canada. Getting an MBA abroad will give you that international experience you need, plus an edge over graduates who only got degrees in their own country. Canadian universities are some of the most sought-after business schools on the planet. This list of the ten best universities in Canada for MBA programs has the answers. Find out more about each school's admission requirements and other features that will help you decide which one is the best fit for your unique needs.
Why study MBA in Canada?
Studying MBA in Canada is beneficial, as you get an opportunity to understand the business world on a global platform.
Studying at one of Canada's top MBA schools will provide you with extensive exposure.
Global Exposure: Alumni of Canadian University are accomplished professionals in various industries like Elon Musk, Margaret Atwood, Justin Trudeau and many more. Some of the most exemplary MBA programmes in Canada provide you with the opportunity to express your knowledge on a global stage.
Home to Top University: Canada has been a popular destination for higher education. The country is home to top universities offering MBAs. Also, it provides the same facilities as countries such as the United States and the United Kingdom, but at a significantly lower cost, making it a more affordable alternative for potential students.
Part-Time Work Opportunities: During your MBA in Canada, you will have many part-time career opportunities and your studies. This will assist you in planning and expanding your network.
Post-Study Work Permit: After completing your MBA programme at Canada's leading MBA institutions, you can apply for a post-study work visa. This is an excellent opportunity for students who want to work in a foreign country once they finish their studies.
Entrepreneurial Development: Canada was placed 7th in the world for Entrepreneurship and Opened for Business by U.S. News & World Report in 2019. And, working on real projects while pursuing an MBA in Canada helps you develop an entrepreneurial mindset.
Top 10 College/University in Canada for MBA
The University of Toronto's Rotman School of Management is a business school; due to many Indian residents in Toronto, Rotman School is one of the finest MBA institutions in Canada for Indian students. Rotman College alumni have a high employment rate, which adds to the value of studying.
The MBA programme at McGill Desautels Faculty of Management, located in downtown Montréal, is ranked #1 in Canada by the Wall Street Journal and #4 in the Bloomberg Business Week ranking for the year 2021. An MBA graduate's average pay is CAD 85,500. McGill University's MBA programme features a small class size of 65-85 students, with an average GMAT score of approximately 675.
The MBA programme at UBC is regarded as one of the best in Canada. Because of the numerous options presented to students following their study, this is considered one of the finest MBA institutions in Canada for Indian students.
After studying at the University of Alberta, 94 percent of MBA graduates get fulfilling jobs. The course is designed to equip students technically and in terms of soft skills to succeed in today's business environment.
John Molson School of Business
The John Molson School Of Business is considered one of the best universities in the country. The reason for this is that the curriculum is revised regularly, and students are taught to develop analytical skills.
University of Western Ontario - Ivey Business School
The Ivey MBA is a full-time, one-year programme that begins in March. The case study method is used in the Ivey MBA programme. Over 300 cases are presented to students each year, which helps to reflect the challenges and complexities of real-world business in the classroom.
York University - Schulich School of Business
This is one of the greatest MBA institutions in Canada, having been ranked #1 by prominent publications such as Forbes, Economist, CNN, and others. After graduation, 89 per cent of grads were able to find desirable jobs.
Queen's University
The Smith School of Business encourages students to take a career-oriented approach to business studies. This institution is one of the greatest places to be, from allowing students to build their career pathways to ensure attractive opportunities and exposure.
University of Saskatchewan - Edwards School of Business
The Master of Business Administration (MBA) programme at the University of Saskatchewan is available full-time and part-time. A course-based alternative is available in the curriculum. Through practical courses, exercises, case studies, and projects involving each functional business area, students learn how business principles are incorporated into company choices.
University of Canada West
The University of Canada West is a for-profit, private college. Students who want to enhance their business skills in Canada can study here. At the university level, standardized education exposes you to the business world.
In today's world, an MBA is one of the most popular business degrees. In fact, in addition to the trendy component of an MBA, students are highly sought after in the professional world. Business associates with an MBA are in high demand in the corporate world. In Canada, you can enrol in a one-year MBA programme. Reach out to SIEC advisors for further information on MBA admissions & it's scholarships to study in Canada.