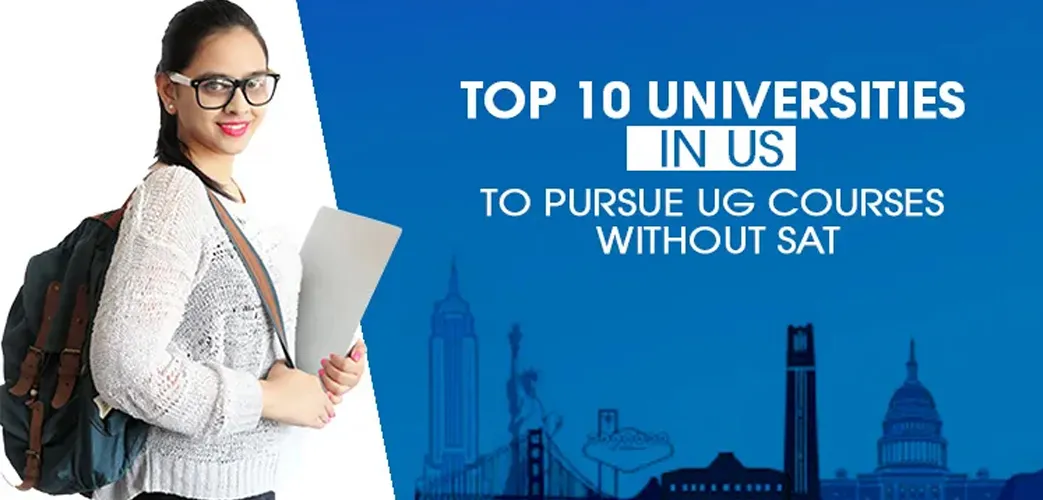 Top 10 Universities in US to pursue UG courses without SAT
You have taken SAT. That's wow! Your chances of admission in US are HIGH.
But if not, NO WORRIES! You can still pursue UG courses in US.
Few US Universities & colleges admit International students for UG courses without SAT scores.
Apply to-
1. Auburn University
Nice accommodation options – residence halls, homestays & apartments
Go for Engineering, Biotechnology, Graphic Design, Industrial Design, Management, language Courses etc.
2. University of South Carolina
Offers nearly 1000 INTERNSHIPS each year
Go for Business, Engineering, Computer Science, Hospitality, Nursing, Music, Health Sciences etc.
3. Dayton University
Centrally located in the US, students can visit other cool US cities on weekends easily by train
Choose Engineering, Accounting, Education, Journalism, Communication, Health Programs etc.
4. UMass Boston
One of the top 220 colleges in the US
Study Nursing, Biochemistry, Economics, Management, Sociology, Psychology, Philosophy
5. Louisiana State University
No 139 in Best Value Schools
Study Agriculture Science, Art & Design, Business, Engineering, Social Sciences, Health Science etc.
Scholarships, loans, grants and Work-Study
6. University of Central Florida
One of the largest universities in the US; among the nation's top 10 most innovative college (US News)
Go for Hospitality Management, Computer Science, Nursing, Biomedical Science, Psychology, and Health Science etc.
7. University of Illinois at Chicago
Amazing housing options all over campus, enjoy UIC & Chicago to the fullest
Study Health Science, Arts, Design, Accounting, Business, Engineering, Education, Nursing, Pharmacy etc.
8. City College of New York
Nice Work-Study Programs
Go for Anthropology, Engineering, Computer Science, Sociology, Literature, Education etc.
9. James Madison University
Huge campus-one of the most scenic in the USA, offering mountain views-only 2 hrs. from Washington
Go for Management, Science, Fine Arts, Mathematics, Psychology, Sociology, Economics etc.
10. University of Nebraska, Lincoln
One of the Top Public Universities; a safe & modern campus environment in the center of the US
Go for Engineering, Business, Arts, Life Science, Education, Health Science, Language courses etc.
Want to know more about US Universities/Colleges? Register for our USA Admissions Day and meet with representatives/USA country expert for a one on one personal counselling session!