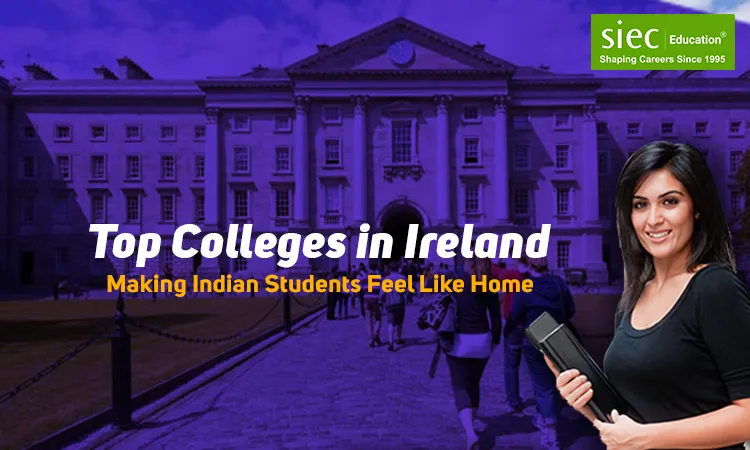 Top Colleges in Ireland Making Indian Students Feel Like Home
Ireland sounds very exotic in comparison to US, UK or Canada. But the fact is- it is a neighboring country of UK which has emerged as a preferred destination for the Indian students. The climate of this cosmopolitan country is similar to that of mainland Britain which is very pleasant.
Colleges and Universities here are chosen by the Indian students because they are world-ranked. Most of them are ranked consistently high in the QS World University Rankings. They offer low-cost education and best part is most of the courses are offered in English.
But apart from these advantages there are colleges which actually make Indian students feel like home. This homely atmosphere in the colleges is a big attraction for them. There are universities organizing events on the occasions of festivals like Diwali and Holi and also 'Bollywood nights' in college festivals.
Following are the top 5 colleges in Ireland which make Indian students feel like home. Let's check out some facts about these colleges to understand why they are popular among Indian students.
1. Trinity College Dublin
One of seven ancient universities which is ranked in top 100 universities in the world

Highest ranked university in Ireland where over 18,000 students from 122 countries study

There are designated officers to assist students from India along with career advisors helping students find work during studies

Rewards academic excellence by offering various scholarship opportunities to foreign students
2. Dublin Business School
Ireland's largest independent third level college, over 9,000 students, wide range of full-time and part-time courses offered

Smaller class sizes making lecturers more accessible to the students for more personal interactions between them

Programs have been designed in collaboration with industry and the professional bodies to boost career of students

Study Law, IT, Business, Arts or Psychology and build the skills you need to succeed in your career
3. Irish American University/ American College Dublin
Moderately-sized, not-for-profit, world-class liberal arts college with campuses on both sides of the Atlantic rim

Emphasis on the core values of innovation, academic excellence, ethical integrity and multiculturalism.

Number of accommodation options providing multicultural social experience, familiar comfort and freedom

Scholarship funds for deserving foreign students
4. Maynooth University, County Kildare
Known as one of the leading new universities in the world with Times Higher Education ranking it any no. 49 in its latest Young University Rankings

Has a reputation for being a friendly University, atmosphere around the campus is what students love about the University

Career Development Centre for students-focus on professional achievement of students

Investing €1.4 million in postgraduate scholarship support in 2018-19
5. Royal College of Surgeons, Dublin
Founded as the national training body for surgery, has been at the forefront of healthcare education since establishment in 1784

Focus exclusively on health sciences

Strategy for Excellence in Translational Research

Pioneer in implementation of gender identity and gender expression policy at the campus
Moreover, universities in Ireland offer programs right from certificate level to doctorate level and all are much sought after by Indian students for whom homely atmosphere, of course, is a big incentive.