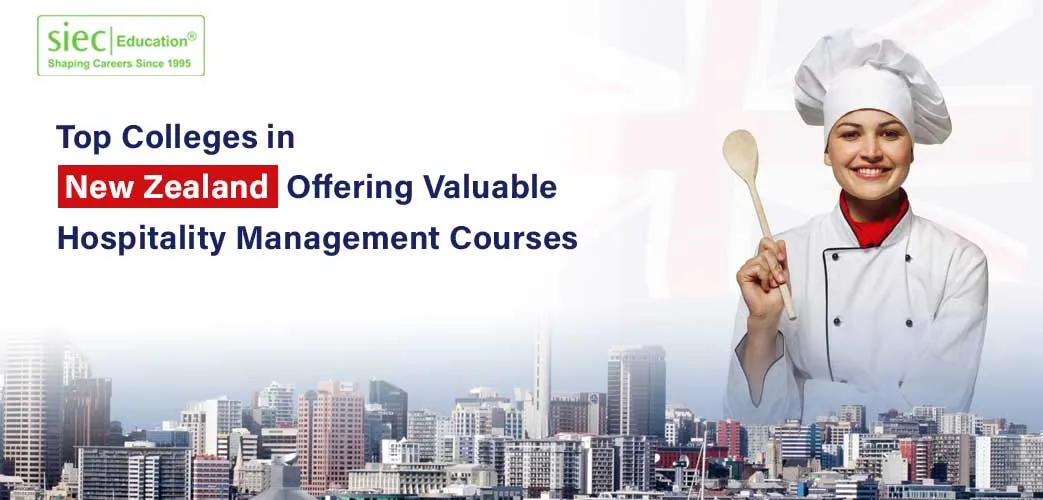 Top Colleges in New Zealand Offering Valuable Hospitality Management Courses
More than 7.5 percent (1,88,000 approximately) of the total New Zealand population is employed in the new Zealand tourism industry. It is the largest export in terms of earning foreign currency with total tourism expenditure being close to 30 billion dollars, in 2016.
It directly affects the opportunities in terms of the growth and employability in the New Zealand hospitality industry.
Quite of a few New Zealand institutions specialize in hospitality courses ranging from resort management, hotel Management, culinary arts etc.
These courses lead to internships during the study period, most of which may turn into full time job offers. Such courses are very popular among Indian students who study in New Zealand. The students are choosing Hospitality Courses for great career outcomes in various cities all over the world.
So what exactly are the outcomes after completion of courses related to the hospitality stream?
Imagine yourself on a luxury cruise ship while managing its state-of-the-art kitchen or a lavish bar, or managing your own café business, or looking after operations management of food and beverages department of a 5-star hotel, or working in a beautiful winery; well I am sure all these sound incredible. And these outcomes can be achieved after completion of your course, and after putting in a lot of hard work. There are no short cuts.
You also can hone your skills to handle creative roles in the booming hospitality industry. Following are top New Zealand colleges offering specializations in the area of hospitality.
1. Pacific International Hotel Management School (PIHMS)
Provides integrated learning experience to the students to prepare them for a wonderful journey into lucrative hotel business
Top courses include Graduate Diploma in Hospitality & Tourism Management, Post-Graduate Diploma in Hotel Management, Master of Hotel Management and so on
Advantage of paid industry placement for the students
Hotel style accommodation, rated as four stars plus by Qualmark, for the students
2. TOI – OHOMAI
One of the largest universities of New Zealand TEACHING 14,000 students on over 60 sites through more than 240 qualifications
Offers short-term and long-term courses in Hospitality and Tourism streams
Small class sizes with focus on individual attention and support from the tutors
Strong hospitality industry connections which link training in the real work ENVIRONMENT.
3. Southern Institute of Technology (SIT)
Extensive facilities, 5 campuses, over 215 courses in 33 subjects including hospitality
Choose from a range of hospitality courses: Diploma/Certificates in Culinary Excellence, Cookery & Patisserie, Food & Beverage Service, Barista Training, Liquor License Controller and so on
Food & Beverage programmes designed to give students a thorough knowledge of culinary skills, creative cooking and also bartending expertise
Various short courses also available
4. Manukau Institute of Technology
Five campuses across Auckland, located right in the heart of the Industry.
Well-crafted courses in Baking and Patisserie, Culinary, Hospitality and Café, Barista and Restaurant, Hotel Reception, Portering & Concierge
Student's work experience or earlier tertiary study can count towards achieving the qualification
Number of short courses available for the students seeking to upgrade skills in areas like food safety, barista skills and so on
5. Otago Polytechnic
Leader in career-focused education, over 150 programmes, takes pride in student achievement and satisfaction results in country
Offers Graduate Diploma in Hotel Management
Employability enhancing courses
Student support providing the essential skills and services they need to do well in studies and career
So, choose a good college in New Zealand and live a life of your choice in the flourishing hospitality sector.