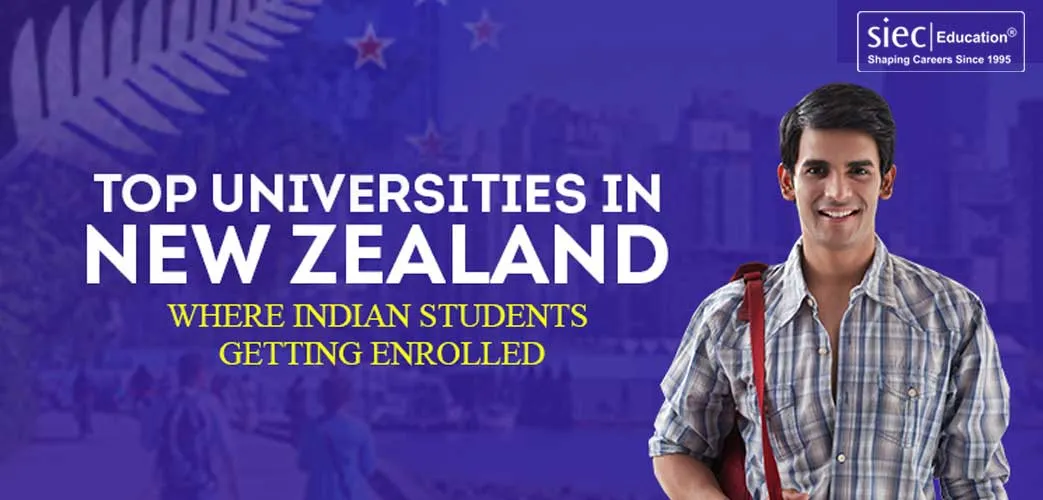 Top Universities in New Zealand Where Indian Students Getting Enrolled
New Zealand is home to some of the best universities of the world. In top 6 of them most of Indian students are getting enrolled.
This beautiful country is a popular study destination now. In fact, recent studies show 28% growth in the number of Indian students who are selecting it if they wish to study abroad. The year 2018 has witnessed a further 6% increase in university enrolments.
Also, a report by the Economist Intelligence Unit places New Zealand at number 1 in the list of countries for educating students for the future. This is because universities here impart education to help students develop skills which are required by the world. Moreover, youngsters enjoy their student life in an open, fair and free society.
Popularly known as 'The land of the long white cloud', it is also one of the top tourist destinations of the world having a wonderful range of landscape, classy cities, spots for adventurous outdoor activities and, of course, a multi-cultural feel.
These are the top 6 universities where Indian students are getting enrolled in large numbers.
1. University of Auckland
One of the top universities in the QS World University Rankings 2018, country's leading university for Graduate Employability

Placed at no 82 in the world, the University is the only New Zealand University in the top 100

Popular courses offered in Bioengineering, Health Sciences, Education & Social Work, Law, Engineering, Creative arts and so on

In the QS World University Rankings by Subject 2018, among the top 50 universities worldwide for 18 of subjects on offer
2. Auckland University of Technology
Placed at number 15th in the world for global outlook and also top rated for academic teaching

Teaching is resourceful, responsive and interactive, characterized by modern approaches, resources and technologies

Popular courses offered in Art & Design, Business & Economics, Colab- Creative Technologies, Communication Studies, Education, Engineering, Computer & Mathematical Sciences, Health Sciences and others

Offers some of the most wide-ranging student services and support in country
3. University of Canterbury
New Zealand's second oldest university, very prestigious

Ranked in the world's 250 university, gives exceptional educational foundation

Popular courses offered in arts, Business & Law, Education, Health & Human Development, Engineering, Science, Language, Media & Entertainment and so on

There are award-winning and esteemed researchers who oversee postgraduate students
4. University of Waikato
In the top 1.1% globally in the latest QS World University Rankings

Awarded a five star rating by QS Stars, confirming the University's status as a renowned university

Popular courses offered in Accounting & Finance, Business & Management Studies, Computer Science & Information Systems, Communication & Media Studies, Law, Linguistics and so on

Provides a future-focused education and plays an active part in global research
5. Lincoln University
World-ranked as ranking is 319 in the QS World University Rankings, also has QS Five Stars rating

Applied programs prepare students for flourishing careers, alumni have a 15% higher employment rate than graduates from other New Zealand universities

Popular courses offered in Agribusiness & Commerce, Agriculture & Life Sciences, Environment, Society & Design, English Literature and so on

A range of support services available to help make time of foreign students as enjoyable as possible.
6. Otago University
Very prestigious and New Zealand's oldest university

Proud to be 1 of the 7 members of the Matariki Network of Universities

Popular courses offered in Health Sciences, Humanities, Business, Life Sciences, Philosophy, Psychology and so on

Committed to the overall development and training of foreign students
Apart from these various other universities and institutions are also popular among Indian students like PIHMS, ARA, NMIT, Whitireia and so on.