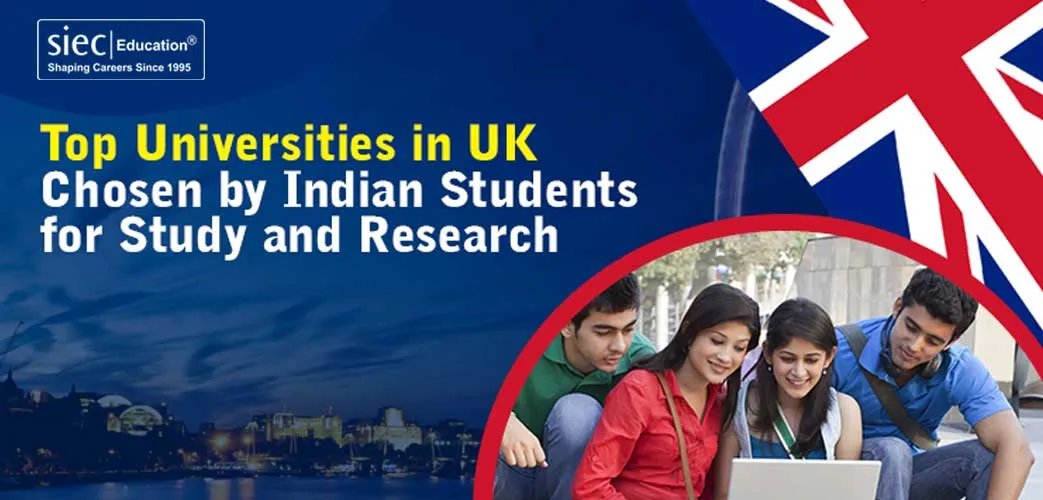 Top Universities in UK Chosen by Indian Students for Study and Research
United Kingdom is the land of opportunities. Hundreds and thousands of students from India go there to pursue Undergraduate, Post-Graduate and Higher Studies. When you study in a foreign country you become able to think out of the box. UK universities prepare its students exactly for the same.
The UK is a great academic destination for several other reasons also.
The country hosts 4 of the world's top 10 universities. Home to globally-renowned 200 universities, it teaches about 492, 000 students from over 200 countries. Studies show 162,000 students from India studied here since 2005.
Peaceful coexistence of people from different cultures, religion, faith, race and ethnicity is another reason to choose this amazing country. Such environment supports emergence of new ideas. That is why the UK is a great place and students choose to study in UK. Really, nothing can match the sheer joy of spending the student life in a free society. And yes, everyone likes to have a college degree of an impressive international repute.
So, here is the list of top 10 universities in the UK where Indian students are getting enrolled in large numbers for achieving academic excellence.
1. City University, London
Reputed research institute, ranked in the top 30 higher education institutions in the UK by the Times Higher Education Table of Tables
Undergraduate, Foundation, Postgraduate and Research Degree courses available along with short courses and Continuing Professional Development (CPD) courses
International students can work for the university, part-time and also during vacations
Various scholarships and bursaries available for the foreign students
2. Heriot-Watt University, Edinburgh (Scotland)
University with a glorious history, ranked 26th in the UK by The Guardian University League Table 2018, and 28th in the UK by The Complete University Guide 2018
Over 460 courses to choose from, for Undergraduate to Doctoral degrees and also Short Courses for education in UK
150 learning partners around the world, opportunities to transfer study to campuses in Dubai and Malaysia
Provision of £7.5m to support scholarships and bursary payments to foreign students
3. Middlesex University, London
Among top 100 universities in the UK, teaches over 25,000 students, coming here from around 140 countries including India
Offers degree programs in Health, Art and Design, Science & Technology Law, Business, Education and Media & Performing Arts
Overseas campuses in Dubai, Mauritius and Malta, students earn internationally recognized British qualifications
Offer a range of scholarships and merit awards to the foreign students
4. Edinburgh Napier University, Edinburgh
Ranked in the top 5% of universities (Times Higher Education World University Rankings), also number 1 in the UK for adding value to students (Guardian University Guide 2017)
Truly international with over 4,000 foreign students currently studying on campus
Undergraduate and Post-Graduate courses in most of the conventional streams, online courses also available
Scholarships for self-funding students from South Asia, merit-based ranging from £1,000 to £3,000
5. Swansea University, Swansea
One of the top 30 research intensive universities in the UK (The Research Excellence Framework – REF2014), ranked 16th in the UK for 'Graduate Employment'
Offers Undergraduate and Post-Graduate courses in conventional streams like Arts, Humanities, Engineering, Health Science, Management, and so on and also research facilities
Aims to provide students with a good working environment, supported by a welcoming campus community, which is free from any discrimination
Offers scholarships for international students
6. University of Wolverhampton, Wolverhampton (Central England)
Founded in 1992, one of the top 100 universities in the UK
Offers courses for Under-Graduate and Post-Graduate studies in conventional streams, along with Summer Courses, Part-Time Courses and also Nursing Studies
Links with other foreign universities, student exchange with over 25 countries including China, India and UAE
Undergraduate scholarships available for excellent academic work
7. Buckinghamshire New University, High Wycombe, Uxbridge and Aylesbury Campuses
A university of high standard, offers various job-oriented programs like travel and aviation courses
Famous for the UK's only music management courses, also offers a degree in policing, graduates move onto a career in the police force
A leading UK University in applied, practice based and translational research
Scholarships available, places of accommodation in halls of residence for first-year foreign students
8. Keele University, England
Located in the heart of England, excels in both education and research, offers Foundation Course, Undergraduate Course, Master's and also PhD
Opportunities to work part-time, join a society or club and indulge in the next level of extra-curricular studies
Apart from conventional courses, offers a range of CPD and leadership short courses
Scholarships available with International Student Support system
9. Staffordshire University, Staffordshire
Over 100 years of educational legacy, dating back to 1914, known for the high rate of 'Graduate Employability'
Along with degrees in conventional streams, also offers 2-year Fast-Track degrees, one of the best universities in the UK for Computer Games degrees
78% of research is world leading or of global significance; driven by a network of interdisciplinary research centers
Scholarships available for the International students
10. University of Chester, Chester, Northwest England
One of the oldest institutions in the UK, founded in 1839, among top 100 universities in country, provides an open environment to over 18,000 students from 130 countries
Offers in excess of 120 undergraduate courses and 80 postgraduate courses
International students can work up to 20 hours per week during term time and full-time during vacations
Offers merit-based scholarships for both undergraduate and postgraduate study leading to a significant reduction to tuition fees
So, select a good university in the UK for acquiring a world-class education. As they say- good universities are costly but 'not so good ones' cost even more.
Disclaimer: Please note that there could be variations in rankings etc. and we do not take any responsibility for any inaccuracy, if occurs.
Note that each university follows different admission process for the international students and intake months also vary.