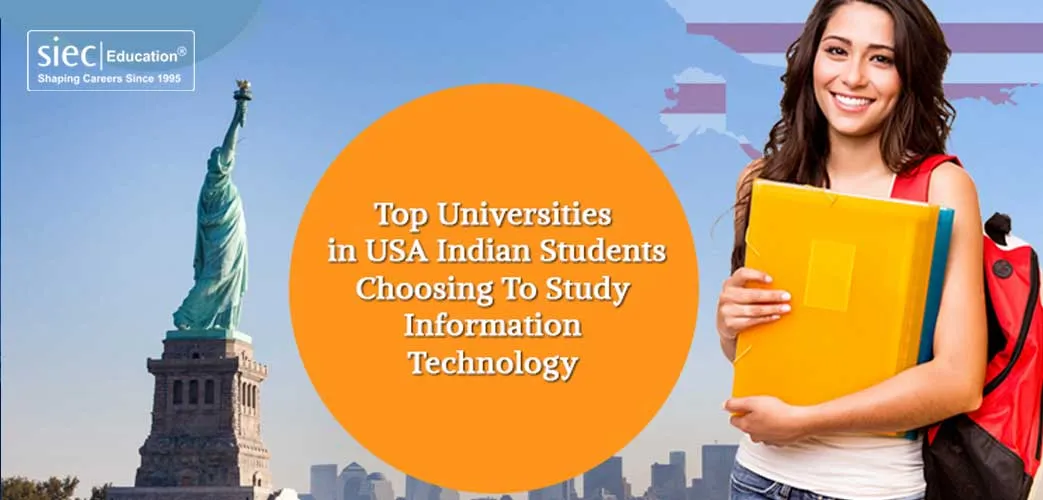 Top Universities in USA Indian Students Choosing To Study Information Technology
As you have decided to study Information Technology from a good American university, it is crucial to know about the leaders of the field. You shouldn't waste this opportunity if you get a chance to study IT from these top universities.
IT is playing a great role today in our day to day lives. In fact, the world today runs on information and this valuable resource never runs out. Its relevance only gets increased day by day and it gets complex as well. We can say that in the world of Information Technology-'change' is the only one constant.
For the businesses which depend on IT for the tasks they do, this 'change' happens rapidly. Now the question is- are you ready to lead the way when what comes next isn't clear? IT studies makes you prepare for the same.
So study in USA and learn IT from the leaders of the field. Following are top 10 universities in the USA where IT education is top class and Indian students choose them without any second thought.
1. California Lutheran University
US News places it at No. 14 in the list of Regional Universities West
Offers M.S. in IT that provides students with a forward-thinking technical foundation to successfully plan, design, implement and manage any IT system
Students across all disciplines are given opportunities to participate in research allowing them to make contributions to their fields during study period
Financial aid and work opportunities available
2. The State University of New York Polytechnic Institute
US news places it at No. 15 in the list of Regional Universities North.
Also offers degrees in the emerging disciplines of Nanoscience, Nano engineering, Nano bioscience and Nano economics programs. Get novel ideas by pursuing education in USA.
Bachelor of Science degree program in Computer and Information Science provides a wide education in major areas like IT and Entertainment Computing
Financial aid for foreign students in the form of scholarships, loans, and part-time jobs
3. Western New England University
US News ranks it at No. 64 in the list of Regional Universities North
Offers major and minor courses in Information Technology
Faculty members in IT have real-world experience to give students guidance on problem-solving and best practices in the evolving field
Offers merit scholarships ranging from $6,000 to $18,000 to undergraduate foreign students with exceptional academic records
4. De Paul University
Ranked at No. 120 in the list of National Universities by US News
Offers BS in IT that emphasizes the technical aspects of IT, providing students with a foundation in business and technical communication
Located in the heart of the technology and business districts, providing students opportunities to work professionally with best IT companies
Offers over 20 graduate degrees, ranging from predictive analytics to job-linked game programming
5. Colorado State University
US News places it at No. 124 in the list of National Universities
CSU's Information Science and Technology Center is very renowned offering major in Computer Science teaching each aspect of IT
Vibrant and active community, welcoming and friendly towards foreign students
Financial aids present in the form of scholarships, loans, grants and work study
6. DeVry University, Illinois
US News ranks it at No. 126 in Regional Universities Midwest
Offers computer information systems degree program with hands-on learning in IT fields like Cyber Security, Software Development, Game Programming and many more
Over 50 campuses across the USA, 6 campuses are particularly prepared to address the needs of foreign students in their pursuit of a great career
Foreign students may qualify for the 'Opportunity Grant' to manage college expenses
7. George Mason University
US news ranks it at No. 140 in the list of National Universities
A wide range of courses to choose from like BS/MS/Applied IT, BS/MS/ Computer Forensics, BS/MS/Information Security and Assurance, BS/MS/ Software Engineering and many more
University Libraries Research Services to offer research facilities to faculty, staff, and students
Foreign students eligible for internal and external scholarships along with loan options for financing education
8. New Jersey Institute of Technology, New Jersey
A public research university in Newark, ranked No. 140 in National Universities by US News
Offers a variety of undergraduate and graduate degree programs with focus on the integration, design, deployment and management of IT, computing and networking resources
Located in the center of Newark's University Heights, a lively, pedestrian friendly college town which is just 20 minutes west of New York City
Scholarships and private loans available for the foreign students
9. University of South Florida
US News places it at No. 140 in the list of National Universities
Offers Master of Science in Information Technology, aims to prepare IT professionals for higher academic degree programs
Ranks 1st in Florida, 5th in the country among public universities for U.S. patents
Scholarship available for international students
10. Florida International University, Florida
US News ranks it at No. 216 in the list of National Universities
Offers BA, BS and MS in Information Technology, Professional MS in IT and many other courses including cyber security and data science
A diverse collection of research opportunities for the advancement of the computer science field
Various scholarship options for the international students
Disclaimer: Please note that there could be variations in rankings etc. and we do not take any responsibility for any inaccuracy, if occurs.
Note that each university follows different admission process for the international students and intake months also vary.