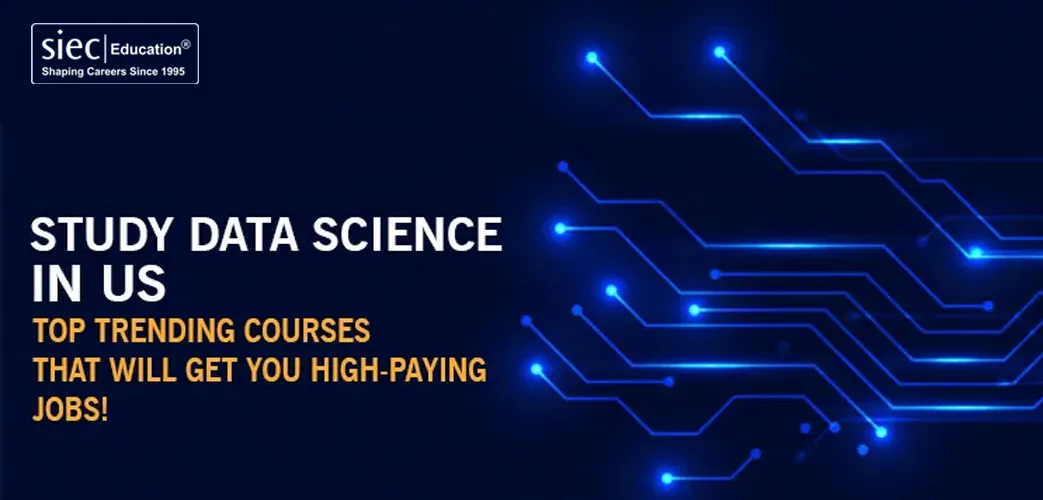 Study Data Science in US
Top Trending courses that will get you HIGH-PAYING jobs!
Get ready for tomorrow's HOTTEST careers and earn a HIGH salary (INR650,000/annum- Average Salary in India) by studying top trending courses-like Data Science- in US.
Work anywhere in the World in fast-growing industries like Online Retail, Telecom, Hospitality, Financial Services, Consumer Products, Transportation, Entertainment, Consulting, Healthcare…to name a few.
Study at-
1. De Paul University, Chicago
MS Data Science
Collaborations with Industry & Nonprofits to conduct joint analytics projects
2. University of Cincinnati
Graduate Certificate Data Analytics
MS in Business Analytics
3. New Jersey Institute of Technology (NJIT)
MS in Data Science
A considerable number of learning opportunities in New Jersey & New York
4. Northeastern University, Boston
5. George Mason University, Virginia
MS in Data Analytics Engineering
The 20 Best Schools to Study Big Data Analytics [Tech Republic]
6. The University of Utah
Graduate Certificate in Big Data
MS Information Systems
MS/ PhD programs in School of Computing with focus on Data Science
7. Colorado State University
Various programs in Data Science & Machine Learning
8. SUNY New Paltz
UG program in Business Analytics
In the top 5% worldwide among all higher education business programs
9. University of Colorado
MS Minor in Data Science Analytics
MS in Business Analytics
10. UMass Boston
Fundamentals/Certificate/MS in Business Analytics
MS Data Science
11. Louisiana State University
MS Data Science
MS Business Analytics
12. University of Illinois at Chicago
MS in Business Analytics
Internships, Co-Ops
13. University of Central Florida
MS Data Analytics (Big Data)
14. City College of New York
MS Data Science & Engineering
15. James Madison University
MS Information Security (Designed for working professionals)
UG Business Analytics Programs
16. University of Kansas
Graduate Certificate/MS in Data Science
17. West Virginia State University
18. University of Nebraska, Lincoln
MS Data Science
Graduate Certificate Business Analytics
Want to know more about top courses to study in US Colleges/Universities? Register for our USA Admissions Day and meet with representatives/USA country expert for a one on one personal counselling session!